Slag pot is the necessary equipment for steelmaking in metallurgical enterprises. Its casting process has to go through dozens of procedures, and each process will have an impact on the quality of slag pots.
The slag pots produced by CHAENG (Great Wall Steel Casting) get attentions and praise on the large steel castings market at home and abroad, because CHAENG focuses and control every process meticulously.
Firstly: Optimized pouring process, special treatment for special parts
Before pouring, the CASE software was used to simulate the casting process, analyze the process and quality of the molding process, and optimize the casting process of slag pot.
CHAENG uses ZG230-450 / GS-16Mn5 / BS3100B2 materials to make the slag pot has good plasticity, high melting point characteristics;
Qualified raw and auxiliary materials shall be tested and put into the electric arc furnace proportionally, and sample hot metal for spectral analysis. After qualification, the pouring process should be carried out according to the principle of "low temperature and quick pouring", and the pouring time and temperature were recorded.
In order to ensure the quality of slag pot, CHAENG adds a certain amount of alloy elements in molten steel, so as to improve its strength, reduce the deformation during usage, prevent the cracking of the slag pot, and increase the number of use.
Secondly: Polishing, testing, and efficient flaw detecting
CHAENG possesses professional polishing and finishing team, as well as large-scale shot blasting equipment, can effectively improve the surface finish of slag pot to meet customer requirements.
Take use of advanced testing equipment to perform 360° non-destructive testing on the inside wall, trunnion and tilting mechanism of slag pot. The key parts can reach Level 2 testing standard of GB7233-2007, or we can design special process according to the customer's specific testing standards requirements, to ensure the quality of slag pot.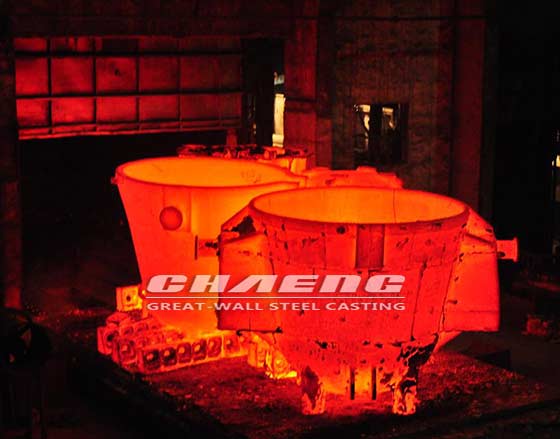 Thirdly: Strict management, to meet customers' demands
In order to provide customers with better quality production, in terms of management, CHAENG requires employees to strictly enforce the process specifications and enhance the staff's execution of related processes.
CHAENG have developed a strict rules and regulations for the procurement of raw materials, storage, testing, molding, and melting process operations. At the same time, strengthen the furnace solution before the test and control to ensure the chemical composition of castings, metallographic structure, mechanical properties and processing performance, so as to reduce casting defects, and obtain a good foundation for slag pot quality.